What's Causing My Lower Back Pain?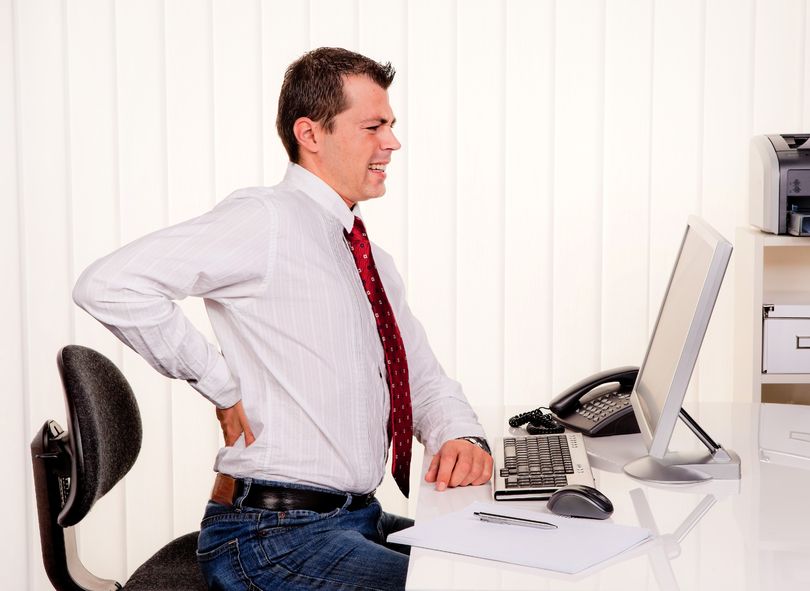 Common Causes of Low Back Pain
You can't get comfortable. Shift in your seat. Cross your legs. No matter how you move, you feel a dull, achy pain in your lower back. You may feel a sharp stabbing pain when sitting still or standing or reaching to answer the phone. No matter how lower back pain feels, it can cramp your style.
Lower back pain is not simply an inconvenience. It can cause people to miss work, and is actually the number one cause for work-related disability among people under 45 years old.[1] Some people can't sleep with lower back pain. It can make simple exercises and many activities uncomfortable and undesirable. According to a 2012 study by the American Physical Therapy Association (APTA), 61% of Americans claim to experience lower back pain.[2]
ACE Physical Therapy and Sports Medicine Institute helps lower back pain patients develop a roadmap to recovery.
What causes lower back pain?
There are a variety of causes for lower back pain, and exact diagnosis is sometimes difficult. A study in the New England Journal of Medicine indicates that "perhaps 85 percent of patients with isolated low back pain cannot be given a precise pathoanatomical diagnosis."[3]
Lower back pain is commonly associated with aging, and most often appears in people between the ages of 30 and 50.[4] Injuries, age-related degenerative processes, spinal stenosis and disk herniation are some of the common causes.
There are risk factors that can increase the likelihood for lower back pain. These risk factors include activities involving heavy lifting and twisting, repetitive actions involving twisting, poor conditioning, and obesity.
Some common causes of discomfort and injury
Working
We can inflame and possibly injure our backs by over-exertion, repetitive actions like raking leaves or shoveling snow. Lifting improperly or lifting too much can risk injury. Improper posture when working inside or outside can also be a source of pain. It's important to avoid twisting the spine and lifting too much weight. You should keep the back straight while lifting, and take regular breaks.
Backpacks
While backpacks are a convenient way to haul laptops and books, overpacking a backpack or wearing a backpack improperly can be a source of pain for children and adults alike.
New Moms
New moms can reduce possible pain by holding the baby close to the center of body with both hands, and avoiding sometimes holding baby with one arm or on one hip in ways that strain the neck and back.
Sitting
Oddly enough, inactivity is also a source of pain for the back. Sitting in the office all day in front of a monitor can cause strain. Sometimes we may use poor posture bending down or forward to see the monitor when working. Driving long distances may impact the back like sitting in the office. Regular stretching and lumbar support can help.
Temporary discomfort versus recurring pain or long term pain.
Many times, we may experience back pain or stiffness for a few days and then it subsides. But back may recur on a regular basis or become acute pain lasting for months. The best solution is not staying in the bed. In fact, laying the bed too long can sometimes prolong pain and slow recovery. [5]
Developing a Custom Plan for Back Pain Recovery
For most people, physical therapy is the best long term solution for dealing with lower back pain. At ACE Physical Therapy and Sports Medicine Institute, our team of professionals therapists work with your doctor's diagnosis, images, and scans to develop a custom recovery solution for you. We provide the support and training you need to follow a plan of recover, focused on restoring you to the lifestyle you enjoy.
[1] Richard A. Deyo, M.D., M.P.H., and James N. Weinstein, D.O.. "Low Back Pain." The New England Journal of Medicine, February 1, 2001.[2] From the 2012 American Physical Therapy Association (APTA) Low Back Pain Survey.[3] Deyo, et al.[4] ibid.[5] Mary Ann Wilmarth, Chief of Physical Therapy, Harvard University Health Services/
Visiting Assistant Professor, Doctor of PT Program, CPS Northeastern University (from interview with the American Physical Therapy Association).