ACE Physical Therapy & Sports Medicine Institute W&OD 10K – 6.2 Mile Run & Walk : **August 14, 2021 at 6:00pm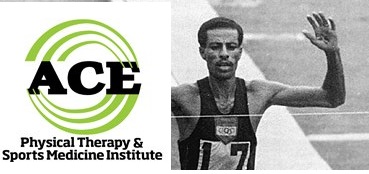 Welcome Runners & Walkers! ACE Physical Therapy and Sports Medicine Institute with locations in Alexandria, Arlington/ Clarendon, Falls Church / Merrifield, FairOaks / Fairfax, Herndon / Reston, Leesburg / Lansdowne, and Tysons Corner / Vienna in VA and the Safety and Health Foundation are pairing up again to present our 14th Annual ACE Physical Therapy and Sports Medicine Institute W&OD 10K – 6.2 Mile Run & Walk, in support of The Friends of the W&OD Trail www.wodfriends.org which is a citizen-driven organization dedicated to protecting and improving the W&OD trail. This is the area's only GREEN race, with a commitment to showing how runners can work to improve the environment, recycle, reuse and conserve. Cash prizes are available for the fastest men and women!
WHEN and WHERE: The race will take place on August 14th, 2021 at 6:00 pm on the W&OD Trail from Old Vienna Train Station, to Hunter Mill Road, and back. The race starts and finishes at Centennial Park, 131 Church Street NE, Vienna VA 22180. The course, which runs along the W&OD Trail, is a mostly-flat, tree-lined and paved route.
REGISTRATION: Click here for easy online registration or click here for Express Registration
Entry is limited to the first 250 people. We can't wait to see you on race day!
PACKET PICK UP or LATE REGISTRATION:
Friday, August 13, 4:00-5:00 PM at ACE Physical Therapy & Sports Medicine Institute
2841 Hartland Road #401B, Falls Church, VA, located in Merrifield, near Gallows Road, off Lee Hwy.
Phone: (703-205-1233)
Website: www.ace-pt.org
Saturday, August 14, 4:15-5:45 PM at the site of the start of the race near the old caboose at Centennial Park, 131 Church St NE, Vienna VA
GENERAL RACE INFO:
The unique out-and-back course runs through one of the area's first environmentally-protected zones, an undeveloped meadowland. Don't be surprised to see deer during your run!
The race begins and ends at the old Vienna train station.
The race course is a 12 foot wide paved trail, mostly flat, with a brief spur into a lovely neighborhood.
Music is provided on the course as well as the finish.
Water and aid stations are available at the start and finish of the race as well as at the 1.5, 3.0, and 4.5 mile marks.
We share the course with other users and bicyclists, so please stay to the right while competing.
Timing is provided by the Safety And Health Foundation.
We use the old-fashioned but environmentally-friendly bib number method.
Please display your bib number on the front of your shirt.
PRIZES, T-SHIRTS and ACE SPORTS PHYSICAL THERAPISTS:
Cash prizes are given to our fastest men and women. Awards ;$450 in cash prizes • $100 for 1st • $75 for 2nd • $50 for 3rd • M/F ($10 for each mile of the W&OD Trail) – Additional 10-year age-group awards 1st / 2nd / 3rd M/F – Commemorative race t-shirts are given to all participants. – Appointment can be made ACE Sports Physical Therapists online or by calling ACE Physical Therapy & Sports Medicine Institute 703-205-1233.
COMMITMENT to the ENVIRONMENT: As the area's only green race, we aim to reduce our environmental footprint and inspire conservation within the running community. We offer online, paperless-registration. All ou printing for the event is two-sided on recycled paper. Our t-shirts are also printed by using an environmentally-friendly non-polluting ink fusion process, rather than traditional screen printing. And of course, we will be recycling any cups used for hydration throughout the race event, as well as separating recyclable material and food waste for composting.
*DONATE: *We will be collecting gently used shoes to donate to the More Foundation Group. With every 600 pair of shoes donated, they are able to fund 12 months of hands-on sustainable agriculture training for a family in Ghana. We will also be collecting clothing to be donated to Good Will.
CONTACT US: For race questions, please call or write the race director:
Call: 703-927-4833 – Write: racedirector@att.net
PRESS CONTACT: *Mike Ercole, MSMSPT, CSCS, ACE Institute Director
DIRECTIONS:
From I-495, take VA-123 west into Vienna, where it becomes Maple Avenue. Pass Whole Foods on your left. You may park there and cross Maple Avenue, or you may turn right on Mill Street and left on either Church Street or Ayr Hill Road to park. – From Vienna Metro Station (Orange Line), turn right on Virginia Center Boulevard, left on Nutley Street, right on Courthouse Road, cross Maple Avenue, right on Church Street. Distance from Metro is 2.1 miles.
PARKING: Ample parking is available directly at the trail near the start/finish line and at the following locations:
Caboose Parking Lot, 132 Church St. NE: Open to the public anytime on weekends.
Town Green/W&OD Trail Parking, Between Church St. NE and Maple Ave. E: Open to the public anytime. Parking accessible from one-way entrance on Maple Avenue East; public parking spaces face the W&OD Trail.
Vienna Town Hall, 127 Center St. S: Open to the public anytime on weekends.
Vienna Elementary School, 128 Center St. S: Open to the public anytime on weekends.
Vienna Shopping Center/Next to 116 Maple Ave. W: Public parking spaces are available on far eastern corner of the parking lot next to the Sunoco Station at 102 Maple Avenue West. Town spaces are marked.
RESTROOMS: Portable toilets will be available near the start/finish line at the crossroads of Ayr Hill Road and W&OD Trail